Request an MPAN number
How do I get a Meter Point Administration Number (MPAN)?
Installing the meter
Once you have accepted and paid for your new electric connection, download our MPAN form and send to our MPAN liaison team.
When you receive your new 13 digit MPAN number, send this to your new energy supplier who will register it in their system for billing.
Please note that MPANs we generate only apply to sites that we later adopt into our network. Please do not apply for MPANs located on IDNO networks as the IDNO will create separate MPANs for use on their own network.
Installation
We don't install meters. Your chosen energy supplier will appoint a meter operator who should come out and install your meter once your new electricity connection is installed. We recommend you liaise directly with your supplier before the connection is completed, so that they can arrange a date for your meter installation which is on or around the date for installation of your electric connection.
When your supplier installs your meter, we will need to receive a copy of the commissioning records. This is part of our standard asset adoption process in line with Code of Practice four of the Balancing and Settlement Code.
For more information on our asset adoption requirements please read Code of Practice 510. If you need help or have any queries, please don't hesitate to contact us at any stage.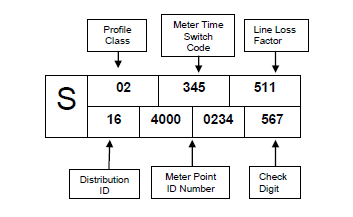 What is an MPAN?
An MPAN (Meter Point Administration Number) is a 13 digit number issued by your Distribution Network Operator (Electricity North West).
It is unique to your supply and used by energy suppliers to locate your supply information for billing. Once your energy supplier registers your MPAN they add to the number, making it a 21 digit number.