Unmetered connections
Unmetered Supplies, what you need to know
The Electricity Act 1989 (Schedule 7) requires that customers shall be charged by "an appropriate meter" for electricity. Where a customer of an authorised supplier is to be charged for the quantity of electricity consumed, the default position is that an appropriate meter must be used. However, the Utilities Act 2000 amended the Electricity Act allowing an unmetered supply in specific prescribed circumstances. These circumstances have been described in The Electricity (Unmetered Supply) Regulations 2001 (The Electricity (Unmetered Supply) Regulations 2001 (legislation.gov.uk) and the associated guidance document (Guidance on Unmetered Supplies).
The prescribed conditions include:
The load must be predictable and
Either:

Less than 500 W; or
It is impractical for the supply to be metered either technically, financially or for legal reasons (for example, under Health and Safety law).
The guidance document notes that the Regulations are generic and cannot cover every particular installation that may be considered for an unmetered supply. It is also noted in the guidance that "while all parties must comply with the Regulations, BEIS believes there is sufficient scope for them to be interpreted in a pragmatic way when considering if an unmetered supply may be provided."
Based on this guidance, our internal policy will allow connections for individual items up to 500W and up to 5kW feeder pillar connections (depending upon the circumstances).
There are also a number of important points to note:
Whilst the Regulations make provisions when an unmetered supply may be given, they do not state that an unmetered supply must be given. The presumption should therefore be that a metered supply will be provided and the onus is on the customer to provide evidence as to why an unmetered supply should be permitted.
Where the supply is to be unmetered, this must be with the agreement of all parties (i.e. the distributor, the supplier and the customer).
Section 4 of the National Terms of Connection applies specifically to unmetered supplies and includes the requirement for the customer to provide a detailed inventory of apparatus, identifying the location and providing sufficient detail (type, description and wattage, together with control gear and switching regimes if applicable) to allow calculation of the electricity consumption. Additions, deletions or amendments to this should be notified once per calendar year or as otherwise specified.
Guidance about the process
Take a look at our simple step by step process guide to our unmetered connections process, by downloading the PDF below. Or, if you want to understand timescales for quotations and delivery, along with our other service commitments to you, take a look at our guaranteed standards of performance.
Fibre optic street cabinets
Electricity North West has introduced a new option for reconnecting high priority fibre optic street cabinets following a knockdown. Fibre optic street cabinets are now an integral part of our national infrastructure and we have recognised the need to prioritise the reconnection of this equipment. The process below provides an operational response option for Telecom companies following damage to their fibre optic equipment. To enquire about using this service, please contact ICE@enwl.co.uk.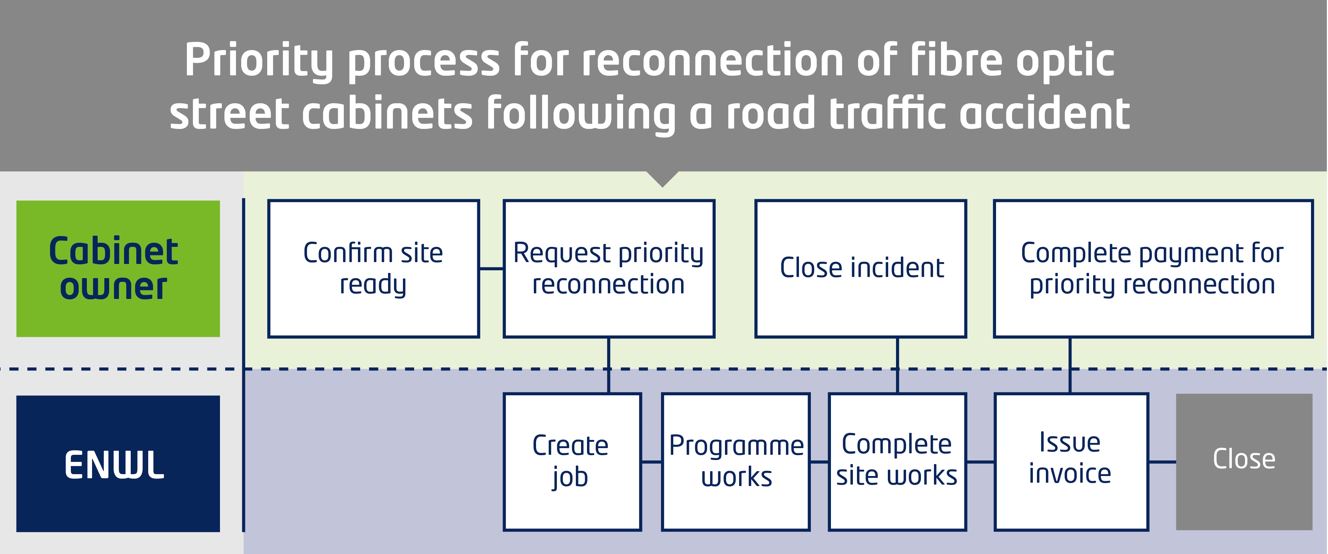 Ready to apply?
Below is our online application form and PDF application forms for local authorities and other parties. Please apply online or download and complete the appropriate form. We will process your application and check the information we receive is complete. Please double check that the site specification is correct and red ducting has been used (as per our guidance which will be posted to you).
We will send you a quote within 25 working days. If you choose to accept, we will arrange a pre-site visit to check the site is ready to connect. Once ready, we will complete the connection within 35 working days.
Apply online
Use our online form to apply for your connection.
Apply now
Download a PDF application form
Don't want to apply online? Download our PDF application form here.
Download form
Application form for local authorities
Download our PDF application form for local authorities.
Download form
Showing {[{itemsFrom}]} to {[{itemsTo}]} of {[{totalResults}]}
Showing to of
No search results found