Unmetered connections
Find out how to apply, what you need to know before applying and how we can help below.
We will process your application and check the information we receive is complete. Please double check that the site specification is correct and red ducting has been used (as per our guidance which will be posted to you).
We will send you a quote within 25 working days. If you choose to accept, we will arrange a pre-site visit to check the site is ready to connect. Once ready, we will complete the connection within 35 working days.
Guidance about the process
Take a look at our simple step by step process guide to our unmetered connections process, by downloading the PDF below. Or, if you want to understand timescales for quotations and delivery, along with our other service commitments to you, take a look at our guaranteed standards of performance.
Fibre optic street cabinets
Electricity North West has introduced a new option for reconnecting high priority fibre optic street cabinets following a knockdown. Fibre optic street cabinets are now an integral part of our national infrastructure and we have recognised the need to prioritise the reconnection of this equipment. The process below provides an operational response option for Telecom companies following damage to their fibre optic equipment. To enquire about using this service, please contact ICE@enwl.co.uk.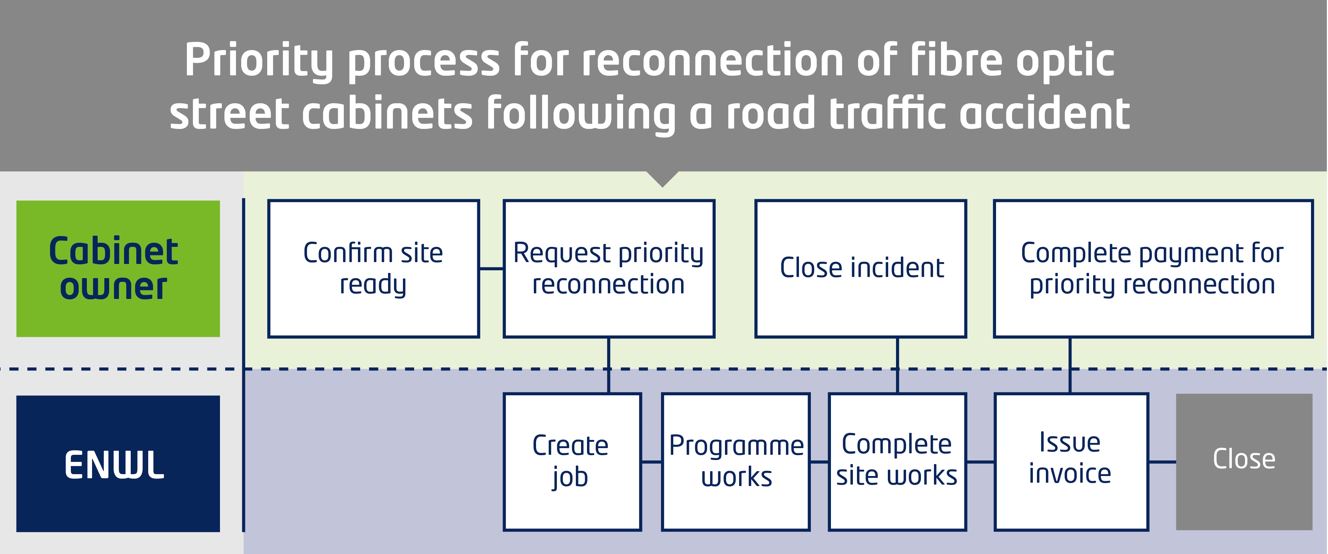 Ready to apply?
Below is our online application form and PDF application forms for local authorities and other parties. Please apply online or download and complete the appropriate form.
Apply online
Use our online form to apply for your connection.
Apply now
Download a PDF application form
Don't want to apply online? Download our PDF application form here.
Download form
Application form for local authorities
Download our PDF application form for local authorities.
Download form
Showing {[{itemsFrom}]} to {[{itemsTo}]} of {[{totalResults}]}
Showing to of
No search results found