Curtailment information
We have introduced a new curtailment forecast and index for flexible connections, providing a better service to connections customers.
What is it?
We recognise the potential impact unexpected import and export curtailment can have on our flexible connections customers. We want to give you a clear view of average interruptions you could experience, but also commit to safeguarding your operations from excessive curtailment. In this way, we look to help customers complete revenue modelling and make more informed investment decisions.
Our curtailment forecast, indicating expected interruptions, curtailment index and demonstrating our commitment to you, will be offered to all new flexible connection customers receiving new formal connection offers or connection agreements on or after 4 December 2017.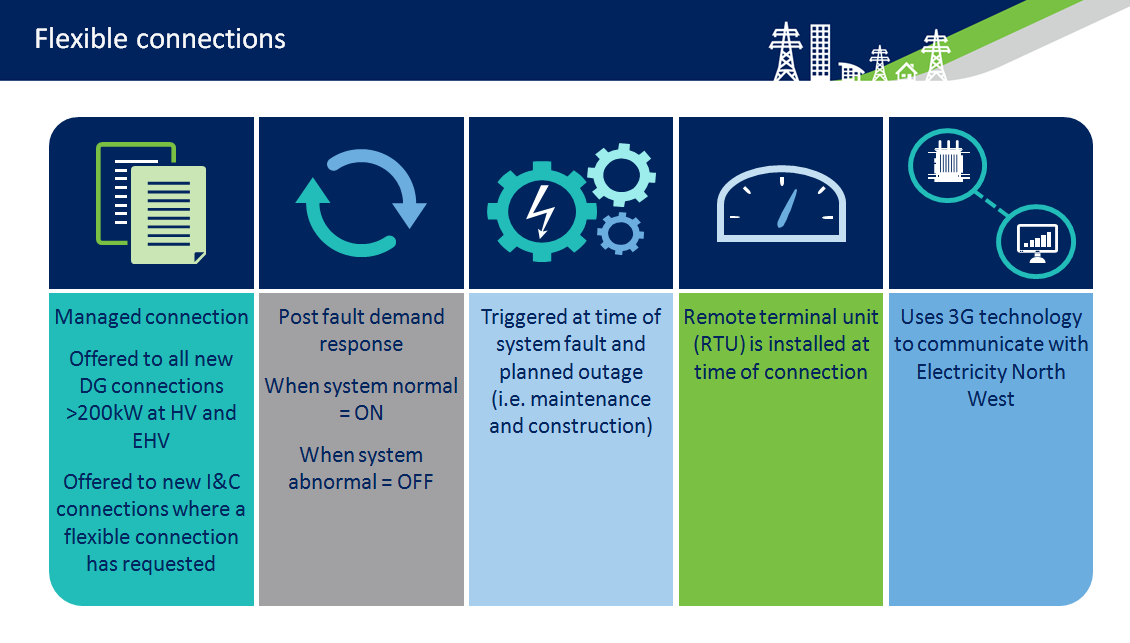 Post-connection
Once connected, we will review actual curtailment your site has experienced and share this information with you annually. We will gather data on your site's curtailment via a remote terminal unit (RTU) and planned outage schedules.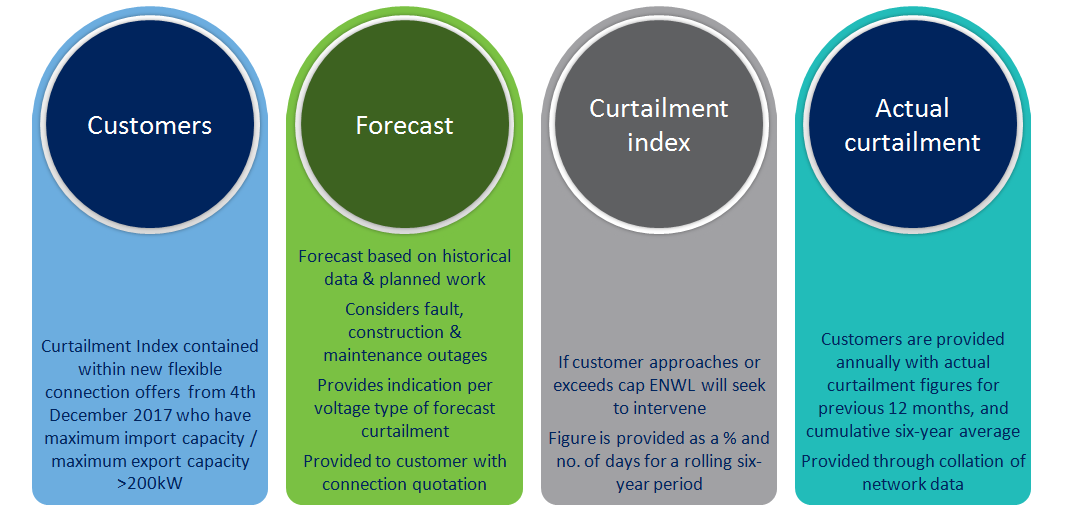 What information will I receive annually?
At the end of the first full financial year following connection energisation or commissioning of the RTU, whichever of the two is completed last, the first letter will be issued. This letter will outline the actual curtailment in that year and state the average within the defined six year period.

If the actual curtailment exceeds the index defined within the connection agreement, we will investigate and develop a range of options to bring curtailment back beneath the index. While development and review of a solution once the index has been reached is guaranteed, its progress will be subject to associated regulatory investment criteria to ensure the most efficient solution.
How do we calculate our forecasts and index?
We will consider scenarios when the system is abnormal and unavailable, for instance during faults, construction outages and maintenance outages to determine the 'actual' and forecast curtailment. The index is then derived from the forecast and forms the trigger point for us to seek to intervene.
In your annual review letter, we will provide the 'actual curtailment' experienced, looking back over the year. We calculate the 'actual' curtailment in the first six years using a simplistic average. In subsequent years (from year seven onwards), we will calculate the actual curtailment using data we've collected in the first previous six years, on a rolling basis.
Still unsure?
If you still have any questions please speak to your connections engineer or email the contracts team.
Contact us