Electricity North West signs up to Good Employment Charter
Electricity North West signs up to Good Employment Charter
Electricity North West has become one of the first employers to join the Greater Manchester Good Employment Charter.
Al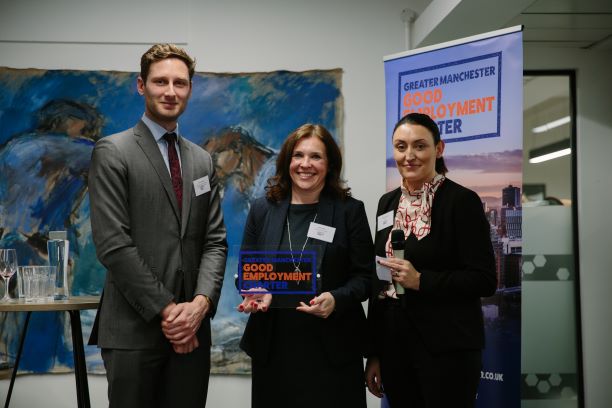 ong with five other employers, Electricity North West, which operates the region's power network, has pledged to pay all staff the real living wage, offer flexible working and provide security of work as full Members of the Good Employment Charter.
The Good Employment Charter is a voluntary scheme designed to help deliver good jobs with opportunities for people to progress and develop.
The Charter's Membership tier was launched on Wednesday 29 January by the Mayor of Greater Manchester Andy Burnham; Deputy Mayor of Greater Manchester and Leader of Manchester City Council Sir Richard Leese; and Cllr Sean Fielding, Greater Manchester Combined Authority (GMCA) Lead for Work and Skills and Leader of Oldham Council.
Electricity North West's Head of HR, Rachel Parr, said: "As the region's power network operator, we're a big employer with a footprint from Cheshire to Cumbria with half of our customers in Greater Manchester. We recognise that we're critical to the wider success of the North West so it's important that we do the right thing for our 2000 people who make that happen. The Charter is a fantastic way of sharing best practice and validating the work we're doing.
"In 2019 we were recognised as a Real Living Wage employer and we're also working with our contractors to get them to the same level. We're also working to challenge the energy sector's reputation regarding diversity and this is a significant element of the Charter so it's a great fit for us.
"Our industry and our region is changing enormously over the next few years as we drive towards a low carbon future. The Charter recognises the need to engage with and listen to employees and we believe this is critical to our success as a business, particularly during times of change.
"I'd encourage anyone to work towards becoming a member of the Charter and we look forward to helping to build up a network of like-minded businesses to help our great region prosper."
Joining Electricity North West is Bruntwood, Oldham College, Rowlinson Knitwear, Making You Content and Back on Track.
All of the businesses worked closely with the charter since its launch and have been chosen for their excellent practices and commitment to continually improving employment standards within their organisation.
Additionally, they are representative of the diverse range of employers across Greater Manchester that the charter is looking to engage with and support.
Mayor of Greater Manchester, Andy Burnham, added: "The Greater Manchester Good Employment Charter is about supporting our employers, helping them to grow and invest in our places, with new and existing jobs right across our city-region that are underpinned by a commitment to equality, a real living wage and a positive and productive working environment.
"The evidence suggests that this is a win-win for everyone, with workplaces more productive when employees are happier. I'm delighted to see so many employers stepping forward to share best practice and improve standards – and would encourage others from across Greater Manchester to get involved."
With one in eight workers across the country now living in poverty and evidence growing that many jobs are too poorly paid or insecure to help people to lift themselves out, the Good Employment Charter is raising standards for local employees.
The charter has been co-designed over the last two years with business groups, employers and employees from all sectors, with trade unions and other experts all involved.